Face your depression by getting the help you need
Depression comes in many forms. Some are faced with lasting symptoms that take control over their daily life. Others are less apparently affected, enduring mild forms of a condition called dysthymia. There are solutions for every situation. We can help you find the right one.
Our staff is qualified to take specialized care of each client they see. We'll listen to you and work together to create a plan that addresses your specific needs. When you come to us for help, we'll make sure everything we do is appropriate, effective and comforting for you.
Find the resources you're looking for
We go beyond offering treatment programs at Griffin Therapeutic Solutions. We offer complete information and support for families associated with victims of depression. If you or a loved one is facing depression, we would like to hear from you. We have the answers you're seeking.
Due to the varying factors involved in cases of depression, we offer many different options for treatment. Visit us to discuss your situation and we'll figure out the best course of action.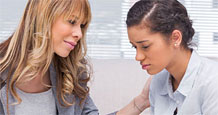 When you visit us, we'll make sure to be there for you every step of the way. You'll never feel alone again. Trust our understanding staff to offer the solutions you need: 217-994-4898