Make a difference in your life and the life of your child
Do you feel like you have lost control of your role as a parent?
Do you find yourself yelling at your child more often than laughing with your child?
Do you feel you have lost touch with your child or don't feel as close as you'd like?
Do you feel frustrated and find yourself saying the same things over and over, with no result?
Would you like for your relationship with your child to go back to the "way it used to be?"
If you answered "yes" to any of the questions above, you may benefit from Child-Parent-Relationship training.
About the C-P-R Training program
C-P-R (Child-Parent-Relationship) Training is a program for parents of children 12-years of age and under. The program seeks to improve child-parent relationships by helping you regain control, develop child self-control, learn disciplinary techniques, empathize and communicate effectively.
Soon, you will notice a difference in your relationship with your child, your child's behavior, your ability to respond effectively and your confidence in your parenting skills.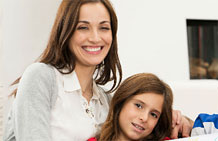 Our Child-Parent-Relationship training courses are designed to promote positive interaction. Let us find the right parenting tools and solutions for you: 217-994-4898