We offer the empathy and understanding of your young child's needs
At Griffin Therapeutic Solutions, we are committed to offering complete assistance with the issues your young child may be facing. While depression and substance abuse are rare in young children, presence in nearby adults can have lasting effects if not addressed.
If your child is facing a difficult situation at home or in their community, or if you have noticed the relationship between you changing, contact us. We have the tools and experience necessary to analyze the root of the issues and provide solutions with utmost respect.
Your confidence matters to us
Due to the nature of our work, we only use techniques that we can trust and rely on in a wide variety of situations. If we recommend medication for your child, we'll make sure to consult with you to make sure you are aware of all the positive and potential negative effects.
If you ever have questions about the process, what we're looking for or why we're doing something, feel free to ask. We're glad to address all your concerns to the best of our ability.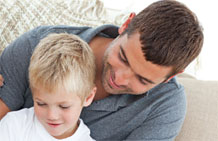 We aim to protect the dignity, confidentiality and privacy of all the clients that we serve. Call for effective, comprehensive, accessible and safe solutions 217-994-4898